Ok, damnit, right this very moment I'm going to log in, and attempt to start uploading to My new Images4sale. Cross your fingers and pray to Me, that I actually do it now, I've said this like a million times..


ALSO!! Some of you LUCKY ones, know I went and spent the weekend with my sister, Goddess Queen Kitty, we had a hell of a time. We always do, we had some fun plans, but due to the crappy weather, they were totally wrecked. Stupid snow, some of you saw My tweek pic, its was awful btw!! Anyway, so we were just relaxing, laughing, having a generally good time , laughing at some crazy video

BANANA

tasks..

Virgin- "Is this what a vag feels like?"
US- BAHAHAHAHAHAHAHAHAHAHAHAHAAAAAAAHAHAHA


anyway, it was getting super late but we were wide awake when we were hit up by slave boi, who then drove 30minutes to My sisters place to come cook us pizza and cookies, LOL - hello 2:30 am!! When you live like this, you get what you want. Anytime. Sooo... we're blazed, he gets there and OF COURSE YOU KNEW WHAT WAS GOING TO HAPPEN! WAiT! Let Me go back and tell you how he ALSO was able to take us out to dinner Friday night, and this fucked up ass crazy bartender got in my face about some bullshit, I WAS ON FIRE, I was sooo mad! So, he comes back Saturday night to be our maid bitch, stupid boy, you know Im going to take it out on you, so he gets there..

1- put the pizza in the oven

2. take all of your fucking clothes off

3. get on the ground and close your eyes

Get ready!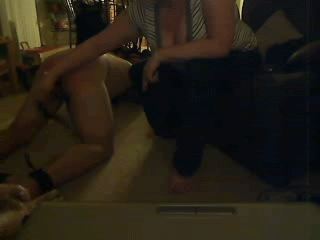 We tore into him for what seemed like forever, with just about every piece of equipment we own between us!!!


Whips, crops, cains, floggers..


All for sheer entertainment, with some serious shit!!! We managed to come to our senses and catch some on video, be grateful, the video is a little dark, but it's 17 MINUTES LONG! and painful. After the pizza was done, get your ass up, clean up, and get them cooking too! Oh? Youre done? already? still naked?

DANCE!





We laughed SOOOOOO hard, seriously, aren't you jealous?
I knew you were..

We win :P
Na na na boo boo